Post by Julian Jiangqing Vu on May 14, 2019 0:02:59 GMT -8
(Content Warning: some mentions of homophobia, specifically from parents. No details)
Julian has just moved across the state live with his older brother, his older brother's partner, and their best friend. I'd really love to have these three characters exist. Go check out Julian's Bio for a little bit more on his backstory!
The Older BrotherName:
Jordan Jiangda (江达) Vu
Birthday:
1991
Occupation:
Engineer (I'm trying to leave this pretty broad. He could be in aerospace, he could be in computer stuff, he could be doing civil/wastewater, pretty much anything you like)
History:
Jordan got disowned/kicked out when he was about 19 after coming out to his parents. He managed to stay in touch with his younger brother (who is about 10 years his junior) through email because he helped Julian set up a secret email, and their parents weren't tech savvy enough to catch him. You can find more about his history in Julian's Bio (
here
). When Julian got kicked out for basically the same reason (though rather more dramatically because it happened right after his 18th birthday), Jordan offered to take him in while Julian was doing college on a full ride scholarship to UW. Jordan lives with his partner (could be long term boyfriend, fiance, or husband) and his best friend, and the origins of their relationships would be completely up to you.
Appearance Notes:
Probably about the same height as Julian, but a little bit more solidly built.
Face Claim:
Yue Yue (of Oner) [Yue Minghui] -
this is a non-negotiable face claim
The Partner
Name:
Currently up to you,
but should have a Chinese/Chinese via SE Asia last name,
Suggestion:
Martin Mingtao Yao
(If you go with this one and need help with characters, I can do that)
Age:
younger than Jordan, older than Kenichi (born between 1992 and 1994)
Occupation:
Up to you within the realm of creative fields
Personality:
He is basically the human embodiment of a golden retriever
(in other words, basically loves all the things and all the people and is very sociable)
Makes really truly bad jokes (puns, dad jokes, etc...)
This is all pretty up for negotiation, but he is a big sweet goofball of some sort.
History:
Pretty up to you. Probably has a pretty good relationship with his parents
(because someone should)
Appearance Notes:
Ridiculously, stupidly tall
(as tall (188 cm/6' 2") or taller than Kenichi)
Face Claim Suggestion:
Dong Yanlei -
this is a negotiable claim, and I can help you find other options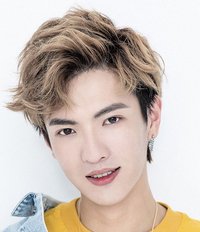 The Best Friend

[Filled by Redeim]
Name: Kenichi Yunhe Qiao [云和 (Yúnhé)]
Birthday: year of the Boar: January 31, 1995-February 18, 1996
Occupation: Pursuing something in an artistic/creative field,
Never went to college (other than maybe a class here and there at CBCC)
Works in a coffee shop (or something similar)
Notes:
- His parents live near-ish by (maybe in Bainbridge), he has a somewhat strained relationship with them (maybe because of sexuality, maybe something else)
- His parents own a restaurant
- He's half-Japanese, half-Chinese (2nd-4th gen)
- He has a younger sibling (probably older than Julian) who excelled academically, and he has some issues around that dynamic
- Has two dogs who live with them
- Doubts his own abilities, especially around things that he sees as academic, a lot
- Is going to basically be having sudden roommate (he agreed to it, but possibly mostly because he wasn't sure that he would get to stay if he didn't, and he really likes living with his best friends)
- Is going to be very awkward with Julian to start with for a whole host of reasons
- Really likes books/films/music, but doesn't necessarily think that he can talk about them effectively in an analytical/advanced way (he's wrong)
- Eventually, he will be Julian's love interest, but it's going to take a while to get to that point
Appearance Notes: Also stupidly tall, but not quite as tall as Martin (in the real of 188 cm/6'2" at least)
Face Claim: Mu Ziyang (of Oner) [Li Zhenyang] - this is a non-negotiable face claim